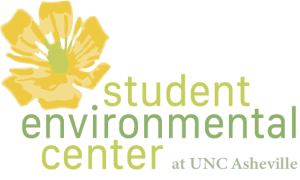 Student Environmental Center
Mission
The Student Environmental Center at UNC Asheville is a student-funded student-run department that seeks to engage students, faculty, staff, and the Asheville community in conversation and action around environmental issues. We are a campus resource for information related to environmental stewardship, university sustainability, and community outreach.
To achieve these goals, the SEC provides a home for passionate students from a variety of backgrounds to gain education on environmental issues. Our focus on peer-to-peer education fosters an environment for individual empowerment where we can create and maintain projects which promote sustainability on our campus. The SEC supports on campus and community events and promotes sustainability initiatives by investing time and funds into these projects.
Greenfest
Brought to you by the Student Environmental Center. Greenfest is a semi-annual series held on the campus of UNC Asheville in September and March/April that celebrates sustainability, students, and community. If you are interested in helping with the planning and development of Greenfest projects and events, please contact us! We are always excited to meet old and new friends happy to lend a hand.
How to Reach Us
Our office is located in Room 218 of Highsmith Student Union. We are down the hallway to the left of the ACE office. Our physical office is not open on a regular basis. If you would like to reach us or set up a meeting, it is best to email us at sec@unca.edu
For inquiries about project ideas, green grants, and ways to get involved, email us at sec@unca.edu and one of our Co-Directors will be happy to get in touch.
Find out about our ongoing events, projects and garden updates following us on Instagram.
Sign up to receive our newsletter to stay up-to-date with upcoming events, sustainability tips, and volunteer opportunities. Email us at sec@unca.edu to sign up today!
Fall Hours of Operation
Note that there are no official office hours during break. However, we have an open door policy and are excited to work with you any time a representative is in the office.